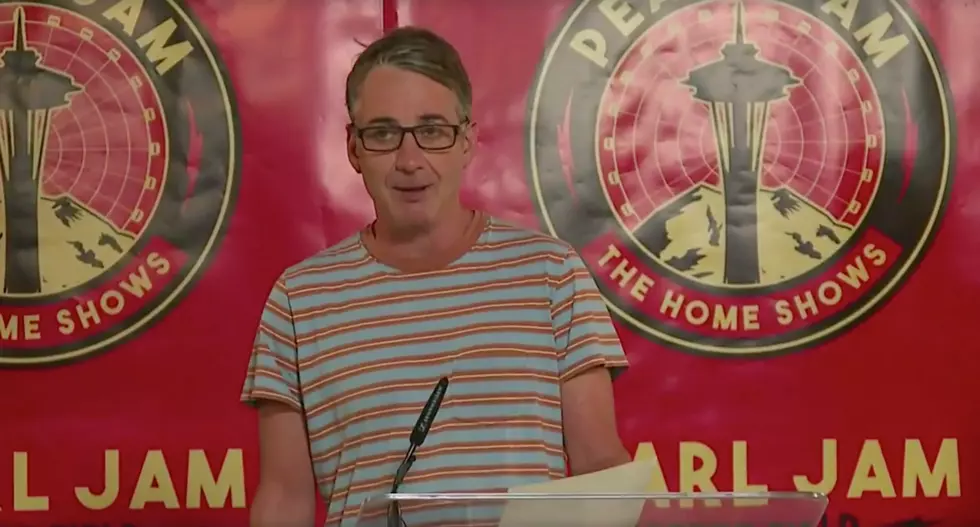 Pearl Jam Working to Combat Homelessness in Washington State
Stone Gossard speaks at press conference to end homelessness
Pearl Jam is working with officials in Washington State to combat youth homelessness. The band held a press conference on Thursday (Sept. 27) in Seattle to announce their campaign against the issue that plagues the city and state.
A statement from A Way Home Washington's "Anchor Community" reads: "Every year, more than 13,000 unaccompanied young people under the age of 25 experience homelessness in the state of Washington – 1,500 experience homelessness on any given night in Seattle and King County alone."
Pearl Jam raised funds for both organizations at their recent hometown shows at Seattle's SafeCo Field over the summer. Guitarist Stone Gossard says, "Just as our community came together around the 'Home Shows,' these initiatives will bring together nonprofits, government agencies, business, schools, families, and the community, to connect young people with the services they need to exit homelessness quickly, and find permanent and safe housing." Watch the press conference below, head to the 11:30 mark to see Gossard speak.
The guitarist adds, "We want every young person who is experiencing homelessness, every person who is experiencing homelessness, to have the opportunity to have a home."
All Home is already working on the issue by using data to see which programs and methods are working. Their efforts resulted in a 22% decrease in youth homelessness from 2017 to 2018.
Pearl Jam are known for their activism and work with various charities including the Bridge School, Crohn's & Colitis Foundation of America, Habitat For Humanity, HeadCount, Rock the Vote, Oceana and the Red Cross to name a few. In 2006, the band launched The Vitalogy Foundation, which "supports the efforts of non-profit organizations doing commendable work in the fields of community health, the environment, arts & education and social change."
'All Home' and 'A Way Home Washington's Anchor Community' Press Conference: