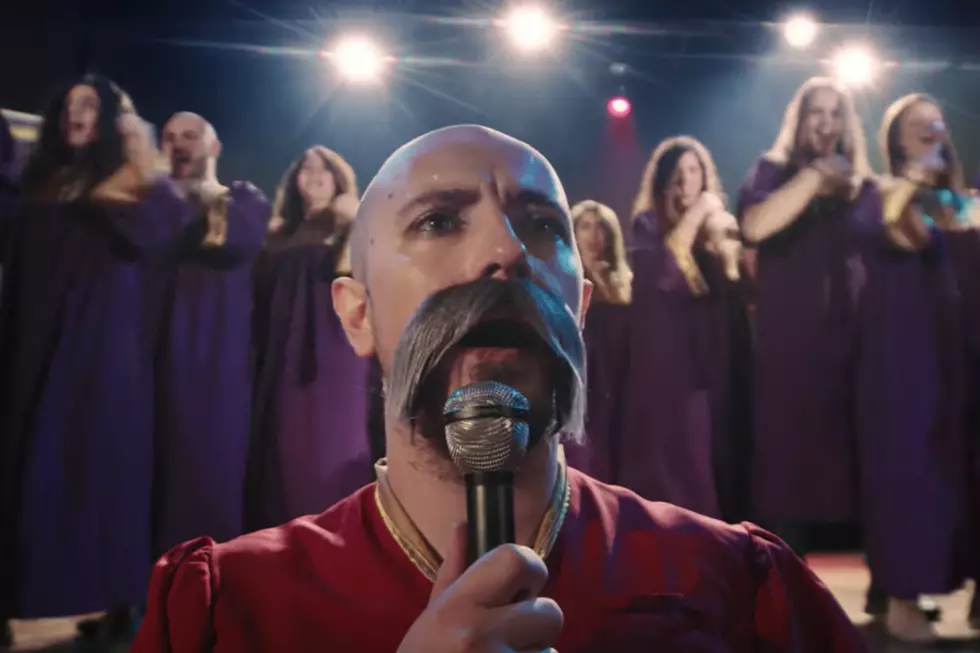 It Doesn't Get Weirder Than Nanowar of Steel's 'Valhalleluja'
YouTube: Napalm Records
Meet Nanowar of Steel, an outrageous parody metal band hailing from Italy, who just dropped a perplexing video for the uber-strange Christmas song, "Valhalleluja," which sings the praises of Odin, Swedish metal guitar techs and flatpack furniture emporium IKEA.
For the thick-headed, the song is an amalgam of Valhalla, the revered afterlife Hall which is the home of fallen Viking warriors and presided over by Odin, and Hallelujah, a familiar phrase extolling religious worship.
In "Valhalleluja," the Italian battalion not only prays to the mighty god Odin, but to the guitar techs for Viking metal overlords Amon Amarth and Swedish power metal banner-wavers Hammerfall. Think of entry into Valhalla like a backstage pass — of course you need to go through the techs before getting anywhere.
Elsewhere in the song, Nanowar of Steel lament that the age of Viking warfare is in the past and, now, the country's reputation is staked around IKEA furniture and its "second to none" ergonomic chairs. With most homeland battles now between Tinker Toy-level do-it-yourself builders and haphazard instruction booklets, it's a sign of the changing time in Sweden's history during this joyous month of holiday celebration.
"Valhalleluja is Nanowar's very own take on Christmas and modern-day Vikingness, featuring Sir Angus McFife of Gloryhammer. It's an epic gospel-metal song praising the virtues of our Lord and Saviour Odin, master of IKEA and protector of the stylish-furniture loving metalheads. This song will change the way you look at your living room for good," said Nanowar of Steel.
We know — none of this really makes any sense. Before we get to the video at the bottom of the page (it's a doozie, we promise), try your hand in interpreting the "meaning" of it all in the lyrics below, if there even is one.
I am drowning in a sea of desperation
And I sing a prayer to my Lord
Away from hope and systembolaget
And I sing a prayer to my Lord
I pray, I pray, yes I pray to my Lord!
I was down on my knees
Permafrost on my feet
I was begging in tears my holy Lord - Odin
Hear our prayer, philantropic Odin
Guitar tech of Amon Amarth
Viking-friendly, Slayer of the Giants
Guitar tech of Hammerfall as well
For the plunder and the rape we sing to you Valhallelujah
For the chopping of the heads we praise you Odin, our Lord
For Normandy, Britannia, Greenland, Scandinavia sing Valhallelujah
But for Nicaragua, Azerbaijan we don't sing at all...
We don't know where they are!
Valhallelujah!
(Shema Yiggrdasil)
(Odinai Eloheinu)
(Odinai Ehad)
Hear my voice this is Odin calling you
Times have changed, I'm a gentlegod
No more war just design of furniture
Master of IKEA
Just like Jesus I'm a carpenter
Forging shelves with the hammer of Thor
Gloria patri furnituribus
In nomine IKEA!
For the BEDDINGE and the KIVIK sing with me Valhallelujah
For the wooden TV bench with storage space and paper foil
For the pencils and the horse-meatballs we sing Valhallelujah
The ergonomics and the quality of your chairs
Are second to none
Valhallelujah!
Our Father Odin
Who art in IKEA
We understood your message
We are here to worship your creation
Please listen our prayer
VITTSJÖ  - Ora pro nobis
Laptop stand, black-brown, tempered glass
KNOPPARP
Small sofa with a big heart and a perfect fit
BESTÅ TV
Bench with doors, black-brown, grey-green
SLATTUM
Upholstered bed frame, Knisa light grey
Valhallelujah
Gloria, gloria
Let us pray to Odin our Lord
Valhallelujah
Falegn-amen
Let us pray to Odin our Lord
"Valhalleluja" is available as a seven-inch single here. Glory to Odin! Glory to IKEA!
Nanowar of Steel, "Valhalleluja" Music Video
Nanowar of Steel, "Valhallelujah" Artwork
The 66 Best Metal Songs of 2019