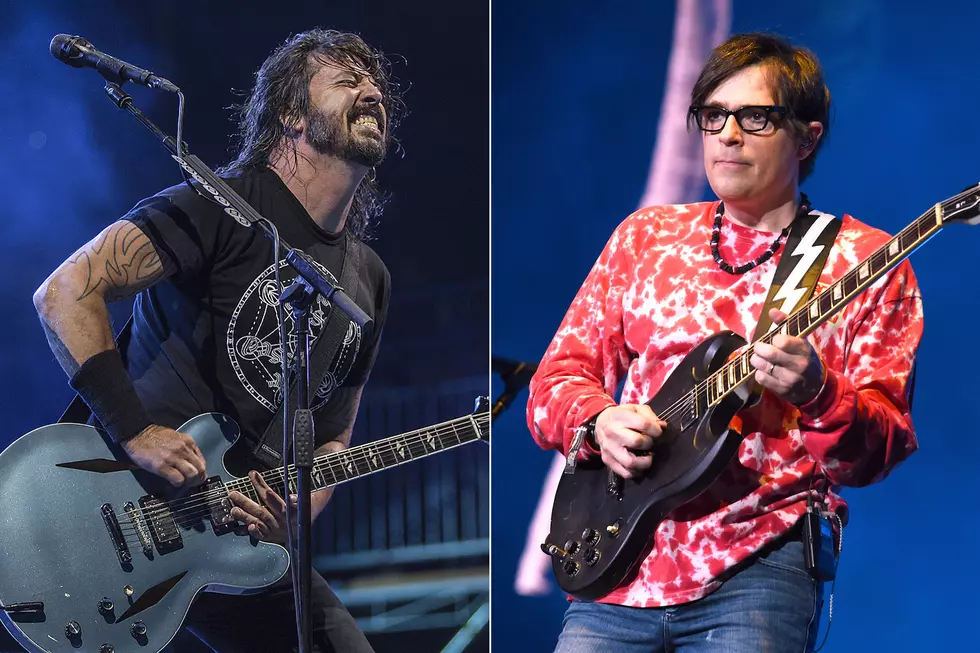 Dave Grohl Cried Hearing Weezer Cover Nirvana at Rock in Rio
Chris Casella, Loudwire / Kevin Winter, Getty Images
As Weezer wound down their set at Rock in Rio on Saturday (Sept. 28), they played a cover of Nirvana's "Lithium" as a teaser for fans, who would soon be watching headlining act Foo Fighters. Dave Grohl was backstage listening and it moved him to tears.
"We're gonna cover a song from Dave Grohl's old band to tide you over until the main course in a few minutes," said Weezer frontman Rivers Cuomo, introducing the song. The band launched into the gritty Nevermind hit four days after the 28th anniversary of the revolutionary album's release.
The song was one of five covers the band elected to play for the Rio festival crowd, three of them (Black Sabbath's "Paranoid," A-Ha's "Take on Me" and Toto's "Africa") coming off the group's 2019 covers album, Weezer (The Teal Album).
After the Foos took the stage next, it was a while — 14 songs — before Grohl acknowledged Weezer's performance of the Nirvana classic. "Tonight I'm gonna dedicate this one to Weezer," declared Grohl who lightly strummed the opening moments of "Big Me" on guitar.
Although the frontman wasn't watching Weezer's set, he was still able to hear their tribute, which moved him on an emotional level. "I was backstage and I heard Weezer play the 'Lithium' song," Grohl told the crowd, continuing, "I gotta be honest, I cried a little bit. I did! I miss playing that song. I miss it, so I'm happy to hear Weezer play it again. So this one goes out to the sweet Weezer."
Watch fan-shot footage of both song performances below.
Catch Weezer on the road in 2020 as part of the "Hella Mega" stadium tour alongside Green Day and Fall Out Boy. See a complete list of tour dates here.
Weezer, Nirvana "Lithium" Cover at Rock in Rio
Foo Fighters Dedicate "Big Me" to Weezer at Rock in Rio
See Dave Grohl in 50 Rockers Who Have Been in Multiple Successful Bands
Top 50 Rockers Who've Been in Multiple Successful Bands