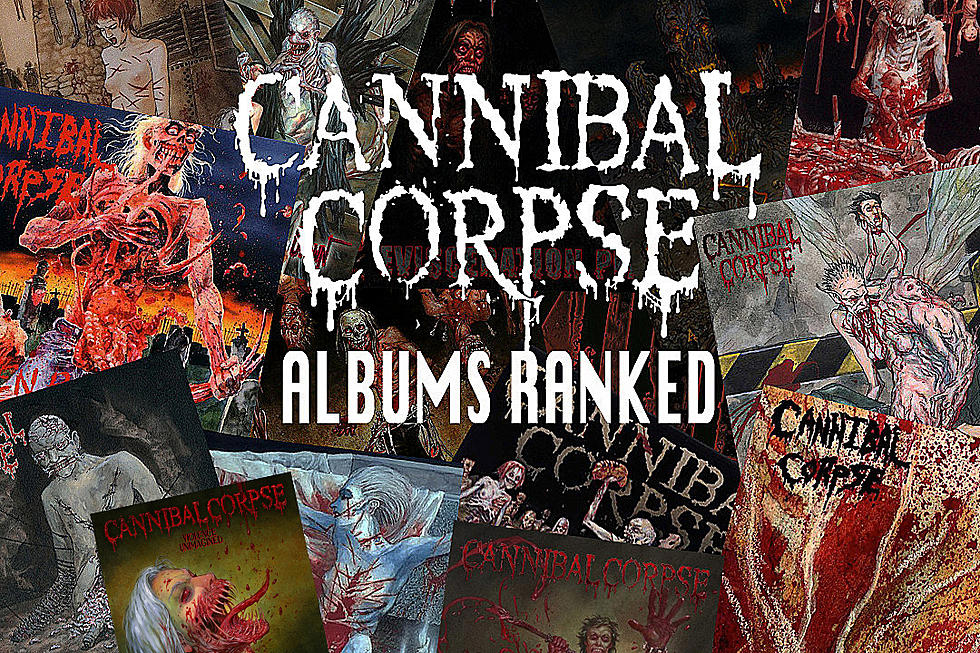 Cannibal Corpse Albums Ranked
Metal Blade
Here is every Cannibal Corpse album ranked from worst to best.
Cannibal Corpse are one of death metal's most revered bands with a remarkably consistent catalog to back the legendary status they've been building since they came onto the scene with their debut album in 1990. Through few lineup changes and two of the genre's biggest names — Chris Barnes and George 'Corpsegrinder' Fisher — fronting the group, Corpse have enjoyed a successful career in one of metal's least compromising genres.
Carving out their path and subsequently one of the many roads death metal would veer down, Cannibal Corpse were pioneers, laying down the blueprint for thousands of bands who have tried to follow in their footsteps. Bringing replete gore, unspeakable violence and wildly grotesque album art to their warped brand of metal, they are almost solely responsible for these themes being regarded as holy writ among their contemporaries and fans alike.
With an unmistakable style, founding members bassist Alex Webster and drummer Paul Mazurkiewicz have locked down the rhythm section in Cannibal Corpse for over 25 years. Webster's technical mastery rightfully puts him atop the heap of extreme metal bassists while Mazurkiewicz's raw, unhinged style cannot be mistaken for anyone else behind the kit.
READ MORE: The Best Death Metal Album of Each Year Since 1985
With 15 albums to their name, the Cannibal Corpse catalog is a towering one, loaded with quality which makes a ranking such as this one quite difficult. Just keep in mind that just because an album is placed lower in the ranking, it doesn't mean it's a bad album!
Let's get to it!
Cannibal Corpse Albums Ranked
PLAYLIST: Early Death Metal (The '80s & '90s)
Over 150 songs of classic death metal!
Best Death Metal Album of Each Year Since 1985
Here's our picks for the Best Death Metal Album of Each Year Since 1985