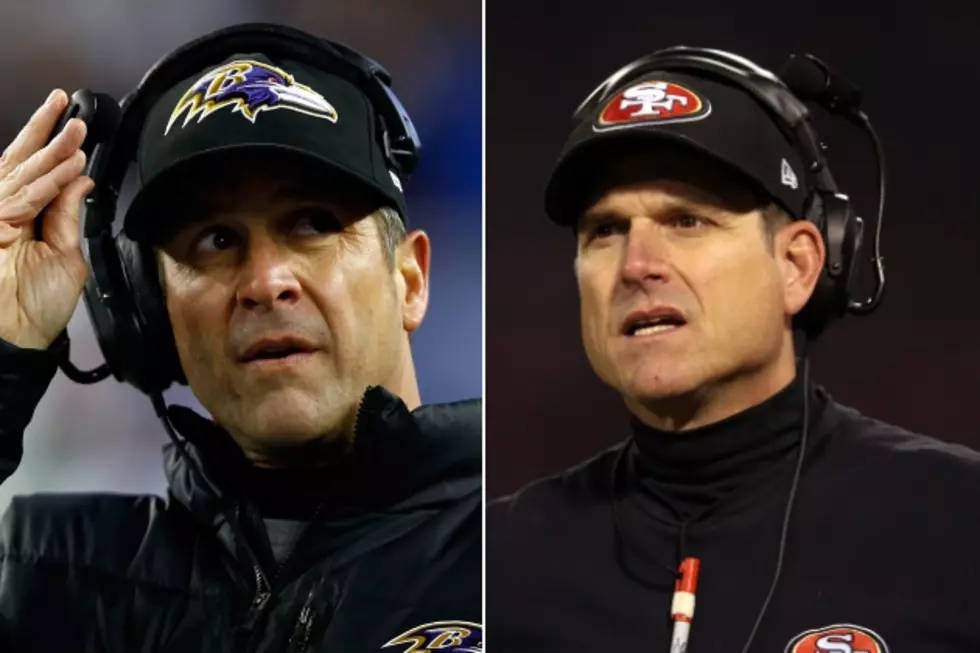 Super Bowl Preview + Mavs Come up Short + Thunder Blow Past Grizzlies – The Sports Report 2/1/13
Jared Wickerham-Stephen Dunn/Getty Images
This Sunday marks the end of the 2012-2013 NFL season as the San Francisco 49ers and Baltimore Ravens meet up in Super Bowl XLVII. We'll preview that game as well as looking back at yesterday's games in the NBA, NCAA, and NHL.
SUPER BOWL SUNDAY...
San Francisco 49ers vs. Baltimore Ravens in the Super Bowl from New Orleans. Ray Lewis will play in the last game of his storied career. If the Ravens win Super Bowl, Joe Flacco would tie Tom Brady's record for most playoff wins by a quarterback in his first five seasons, with nine. The 49ers have their 6th title in sights as they play their first Super Bowl since Steve Young led them there in 1994. 2 of the best defenses in the NFL will be put to the test. The 49ers will try to defend the deep threat of Flacco's arm and the Ravens will attempt to control the run and pass ability of Colin Kaepernick. The game also marks the 1st time in NFL history that brothers coached opposing teams. The 49ers are favored by 4 points going into the game.
NBA SCORES...
OKLAHOMA CITY 106 - Memphis 89... The Thunder built a 24-point halftime lead and coasted past the short-handed Grizzlies. They got 27 points from Kevin Durant and 21 from Russell Westbrook.
GOLDEN STATE 100 – Dallas 97... The Warriors scored the first 12 points of the fourth quarter to take an 11-point lead and held of the Mavericks the rest of the way. Klay Thompson scored 27 points to lead all scorers. David Lee had 15 points and 20 rebounds.
NBA SCHEDULE...
Miami is at Indiana...
Toronto hosts the L.A. Clippers...
Orlando is at Boston...
Detroit hosts Cleveland...
Chicago is at Brooklyn...
New York hosts Milwaukee...
Sacramento is at Philadelphia...
Memphis hosts Washington...
New Orleans is at Denver...
Phoenix hosts Dallas...
Portland is at Utah...
Minnesota hosts the L.A. Lakers
NCAA TOP 25 MENS BASKETBALL...
#7 Gonzaga 88, LOYOLA MARYMOUNT 43...
#8 Arizona 57, WASHINGTON 53...
SAINT LOUIS 75, #9 Butler 58...
#13 MICHIGAN STATE 80, Illinois 75...
NHL...
N.Y. Islanders 5, NEW JERSEY 4 (OT)...
Buffalo 7, BOSTON 4...
Pittsburgh 3, N.Y. RANGERS 0...
TORONTO 3, Washington 2...
St. Louis 4, COLUMBUS 1...
FLORIDA 6, Winnipeg 3...
Colorado 6, CALGARY 3...
SAN JOSE 3, Edmonton 2 (SO)...
Nashville 2, LOS ANGELES 1 (SO)
NHL SCHEDULE...
Philadelphia is at Washington...
Carolina hosts Ottawa...
Winnipeg is at Tampa Bay...
Detroit hosts St. Louis...
Phoenix is at Dallas...
Anaheim hosts Minnesota...
Chicago is at Vancouver