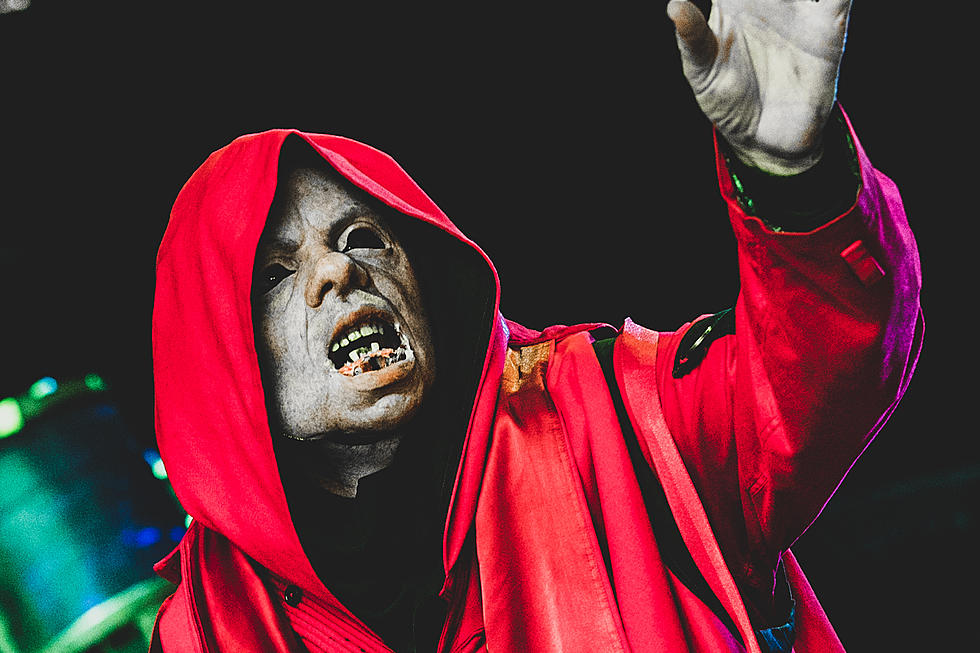 Slipknot's Sid Wilson Undergoing Treatment for Meniscus Tears in Both Knees
Photo by Anthony Scanga
Slipknot's Sid Wilson was the latest guest on Full Metal Jackie's weekend radio program. The Knotfest Roadshow is currently underway in what promises to be an exciting year for Slipknot with the release of a new album expected as well.
In the interview, which can be read in full below, the DJ said that his numerous activities outside of Slipknot are mostly inspired by his father, whom he called a Renaissance man. "I've pretty much spent my whole life trying to live up to the name of Sid, being that he's a second and I'm the third," Wilson explained.
Elsewhere, he detailed the "off-planet" samples he created while on the road as the band worked on new material with the use of a portable studio and he detailed the physical toll performing live with Slipknot has taken on him over the last two-plus decades.
Wilson is currently in the midst of treatments for a torn meniscus in both of his knees and, with more treatments ahead, he said he's "being rebuilt like the bionic man."
Outside of Slipknot, you also DJ, produce, rap and act. What's fulfilling and maybe even rejuvenating about expressing yourself in creative outlets other than Slipknot?
I don't know. I've always kind of considered myself a jack of all trades. My father's kind of a Renaissance man and does several things. He was very active with the military and then he played pro football for Oxford United in England, pro-moto scrambles (which is motocross today for BSA — British small arms motorcycles). He is an artist. He paints wildlife. He just recently starting sculpting. He's an architect and land developer.
I can just go on and on about the guy. He does so many things. I've pretty much spent my whole life trying to live up to the name of Sid, being that he's a second and I'm the third.
Let's talk about the new Slipknot album. Corey Taylor has described it as a very melodic, heavier version of Vol. 3: (The Subliminal Verses). What was your mindset in terms of how you needed to express yourself in the context of this album?
It's hard to say. The development of this album happened to lot during touring. We have a portable studio set up with us, so a lot of ideas get put down in the studio room backstage.
In a way, we're touring and touring and getting further and further from earth. So I actually dove into a lot of samples from different moons around different planets within our solar system to kind of translate the amount of travel we were doing and also bringing it back down to earth for everyone to listen to. So my sound selection was a little more off-planet than normal. [laughs]
At this stage of your career, how are you better prepared for the physical wear and tear of a Slipknot show?
That's a great question because just recently I've been making trips to Los Angeles and getting treatment on my knees. My knees have gotten very degenerative with over the years from all of the dancing and jumping off of high objects and landing on my feet — all of that [stuff] people are familiar with.
I have a meniscus tear in my left knee and a multi-angular meniscus tear in my right knee, which means it's like spider web tears. So there's several tears going in all different directions. And I started doing what's called a Regenicin treatment, which is usually done by the same people who do stem cell treatment.
What they do is take my blood and then they take the blood cells, activate them into repair mode and then inject them back into the joint where the problem is happening. It's just really long needles and they go all the way into the center of my knee when they inject this. I'm on my second stage of the treatment now and when I go back to Los Angeles here in about a week or so, I'm going to have three more treatments done. There's a lot of physio that happens with that too. I'm a being rebuilt like the bionic man.
20 Epic Sid Wilson Stage Dives
Lately, Slipknot headlines seem to be romances and feuds, just as much as music. What frustrates or amuses you about sensationalism overshadowing music and art?
I don't get too wrapped up in it — I just keep living my life. I don't succumb to the things that are happening unless it's coming directly from me from some kind of media platform. It's all kind of hearsay otherwise. If it's with other people that I know as well, I get it from the horse's mouth so to speak.
I don't allow myself to get too wrapped up in that.
I am active on social media and other platforms, but it's more as a bonus for fans to be able to connect with me. If you see something on my Instagram, it's coming directly from me. I don't have a management team handling that. All of my follows and all of my interactions are completely organic for me. It's fun. I like that it's something that can be done to let the fans interact with me on a personal level and I just kind of keep it at that. I try not to take it too seriously and just have fun with it.
The first Slipknot album came out over 20 years ago when you were a bunch of kids in Iowa who had absolutely nothing to lose. What's better and worse about making an album now when you're far from unknown?
What was better about it at first is that we had so much time as individuals. Not everyone was in a relationship or had children or whatever it was it really only Shawn [Clown] with children then.
It allowed us more time to commit every waking minute, hour and day — seven days a week together — writing and coming up with material and locking ourselves in a basement.
As time progresses, everyone's lives progress as well. You have all these different logistics involved with each person's life, which doesn't allow as much free time as we had when we were younger to pursue the writing of the music and the creation of the live show together all the time. So, we have to find new ways to do that while traveling and on the road. Although we haven't lost any of the fun in that, the freedom of time when you're young and don't have as many things going on in your life is definitely missed.
Thanks to Sid Wilson for the interview. Catch Slipknot on both legs of the Knotfest Roadshow tour at these dates and follow the band on Facebook, Twitter, Instagram and Spotify. Find out where you can hear Full Metal Jackie's weekend radio show here.
The Evolution of Slipknot's Terrifying Masks