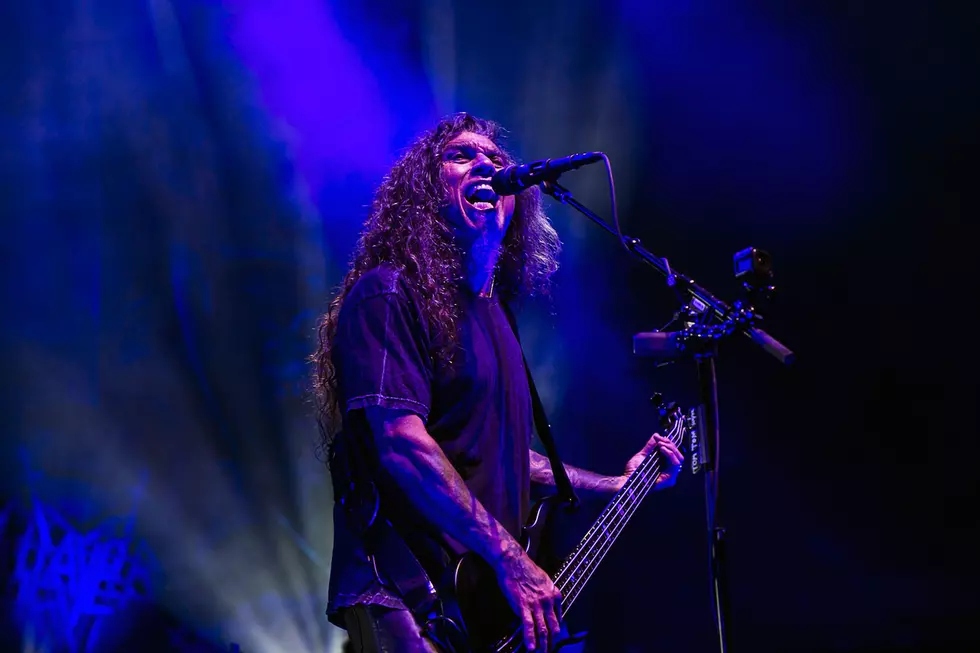 Slayer Kick off Farewell Tour in San Diego: 'Thank You for Everything'
(Matt Stasi)
More than three decades into their career, Slayer can still whip fans into a raging frenzy, even before they play a single note. Last night (May 10), they kicked off their farewell tour at the Valley View Casino Center in San Diego, California, topping a sold-out bill that featured support from Lamb of God, Anthrax, Behemoth, and Testament.
Before they even took the stage, the audience had to be told to clear the walkways, as Slayer wouldn't be able to start the show until they did so. Soon, the audience complied, and the lights went down as the intro track "Delusions of Saviour" played, and the pyro began. The curtain soon dropped, revealing the band on stage, and they roared through 2015's "Repentless," the title track of their final album. Twin mosh pits instantly broke out in front of the stage.
From there, they launched into "Blood Red" for the first time since 2010, followed by "Disciple," which was punctuated by the audience screaming along with the band, "God hates us all!"
After "Mandatory Suicide" and "Hate Worldwide," the show came to a temporary halt when a venue representative had to come out and, once again, ask people to clear the aisles in the seated area. The band hasn't mellowed with age, and clearly, neither have the fans. Slayer's crowd have never been the "sit-down" types, and that certainly isn't changing at this late date.
Once the aisles were cleared, Tom Araya asked the audience if they wanted to scream "War" with him. "Are you ready?" The crowd cheered excitedly. On his mark, Araya let out a loud and proud "WAAAARRRR!!!" along with thousands of fans. This, of course, led into "War Ensemble."
After again asking the audience to clear the aisles, Araya said, "Karma will come back to you because payback's a bitch, motherfucker!" The next song, of course, was "Payback."
A few songs later, Holt, Araya, and Kerry King huddled up in front of drummer Paul Bostaph as he pounded the intro drums to "Raining Blood," inspiring the biggest mosh frenzy of the night as the whole front section of the venue became one giant circle pit.
The closer, of course, was "Angel of Death." As Araya let out his infamous scream, the pit swelled one last time as a legion of crowd surfers that seemed to be never-ending moved back and forth. Once the song, and the show, came to an end, Araya addressed the audience. "If it wasn't for you, we wouldn't be here. I wanted to thank you for everything," a rare bittersweet moment in a night of the most gloriously brutal metal.
Slayer's setlist:
Repentless
Blood Red
Disciple
Mandatory Suicide
Hate Worldwide
War Ensemble
Jihad
When the Stillness Comes
Postmortem
Black Magic
Payback
Season in the Abyss
Dittohead
Dead Skin Mask
Hell Awaits
South of Heaven
Raining Blood
Chemical Warfare
Angel of Death
Kerry King Plays 'Wikipedia: Fact or Fiction?'