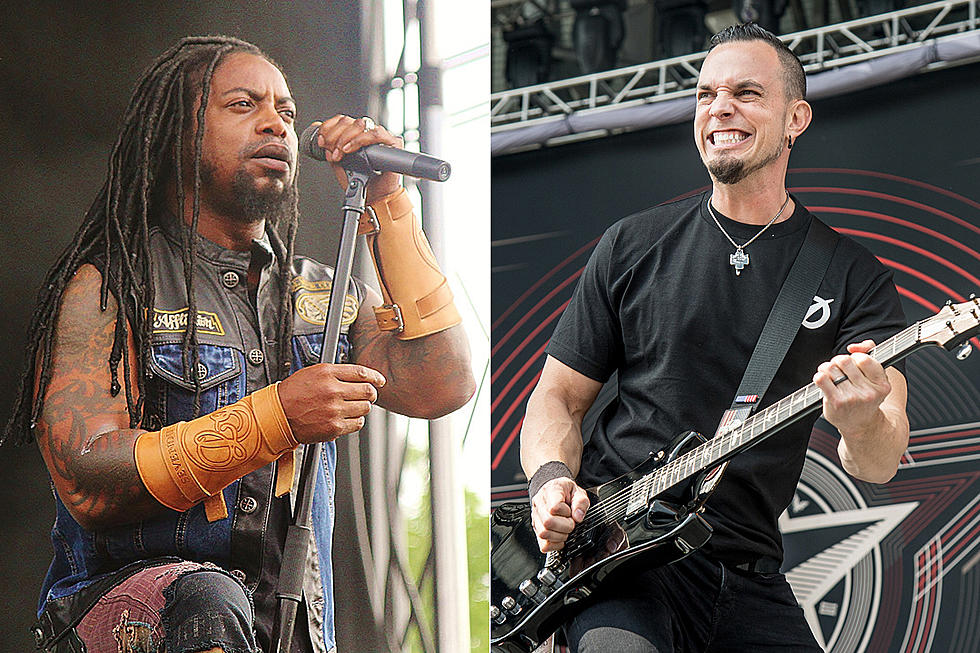 Sevendust + Tremonti Announce 2019 Tour
Liz Ramanand / Amy Harris, Loudwire
Sevendust will head out on the road in early 2019 with Tremonti. The 22-date outing kicks off on Feb. 1 in Houston, Texas and crosses the country wrapping up on March 3 in San Antonio, Texas. The bill will also feature sets from Cane Hill, Lullwater and Kirra.
Sevendust recently unveiled a video for their latest single "Unforgiven." The post-apocalyptic clip was directed by Scott Hansen and tells the story of a rebuilding world where "the youth will be the ones to keep mankind going long after the adults are no longer around." Frontman Lajon Witherspoon says the video was a great experience adding, "It was like being in a movie for real and I hope we can do something like that again."
The group will close out 2018 with a trio of hometown shows in Atlanta, Ga. at The Masquerade on Dec. 28, 29 and 31. The New Year's Eve show will see Sevendust performing their iconic 1999 album Home in its entirety.
Back in June, Tremonti released their concept album, A Dying Machine, which is the band's most well-rounded effort to date.
Sevendust + Tremonti Tour Dates:
Feb. 1 – Houston, Texas @ Scout Bar
Feb. 2 – New Orleans, La. @ Southport Music Hall
Feb. 4 – Ft. Lauderdale, Fla. @ Revolution
Feb. 5 – St. Petersburg, Fla. @ Jannus Live
Feb. 6 – Greensville, S.C. @ The Firmament
Feb. 8 – Greensboro, N.C. @ Blind Tiger
Feb. 9 – Norfolk, Va, @ The NorVa
Feb. 10 – Baltimore, Md. @ Rams Head Live
Feb. 13 – Huntington, N.Y. @ The Paramount
Feb. 14 – Boston, Mass. @ House of Blues
Feb. 15 – Providence, R.I. @ The Strand
Feb. 16 – Sayerville, N.J. @ Starland Ballroom
Feb. 18 – New Haven, Conn. @ Toad's Place
Feb. 19 – Poughkeepsie, N.Y. @ The Chance
Feb. 20 – Buffalo, N.Y. @ Rapids
Feb. 22 – Flint, Mich. @ Machine Shop
Feb. 25 – Columbus, Ohio @ Newport Music Hall
Feb. 26 – Chicago, Ill. @ House of Blues
Feb. 27 – Columbia, Mo. @ The Blue Note
March 1 – Wichita, Kan. @ The Coltillion
March 2 – Oklahoma City, Okla. @ Diamond Ballroom
March 3 – San Antonio, Texas @ Vibes Event Center
Sevendust Play 'Wikipedia: Fact or Fiction?'
100 Best Hard Rock + Metal Albums of the 21st Century