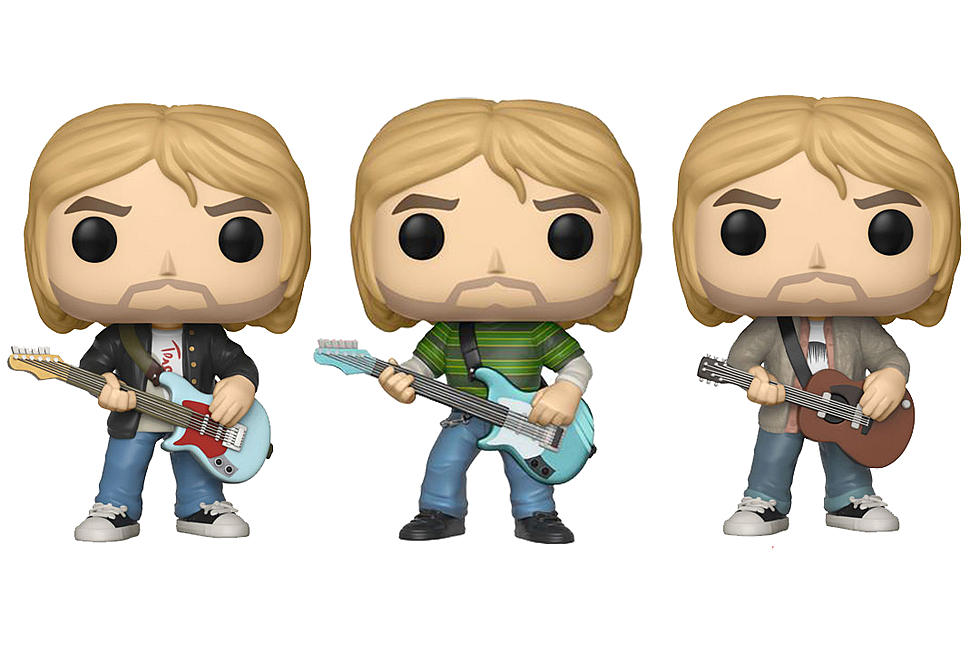 Nirvana's Kurt Cobain Getting Three Pop! Funko Figures in 2018
Pop! Funko
Clear some room on the shelf! There's thousands of Pop! Funko figures already on the market and the toy company is still mining every facet of entertainment to bring us more of these highly-collectible and pretty adorable looking dolls. They've already dipped their toes in rock and metal's waters and are set to make a big splash with the release of three different versions of Nirvana legend Kurt Cobain sometime next year.
An exact 2018 release date has yet to be disclosed, but the Cobain figures will arrive as part of the Pop! Rocks: Series 3, which will also see Grateful Dead legend Jerry Garcia and two variations of Elton John hit the shelves alongside the Nirvana frontman.
The figure seen above on the right with Cobain holding an acoustic guitar will be issued as an FYE exclusive, meanwhile the one on the left with the rocker sporting a leather jacket, will be available exclusively through Hot Topic. Fans will be able to track down the figure in the middle with the rolled up green shirt at participating retailers. Head to the Funko website for more details.
Over the summer, all four current members of Metallica got the Pop! Funko treatment (even though Kirk Hammett's likeness was closer to Frankie Banali of Quiet Riot), joining a growing list that already included figures of Guns N' Roses members Axl Rose, Slash and Duff McKagan, Motorhead's Lemmy Kilmister and the Babymetal trio.
Top 30 Grunge Albums of All Time
13 Unforgettable Kurt Cobain Moments