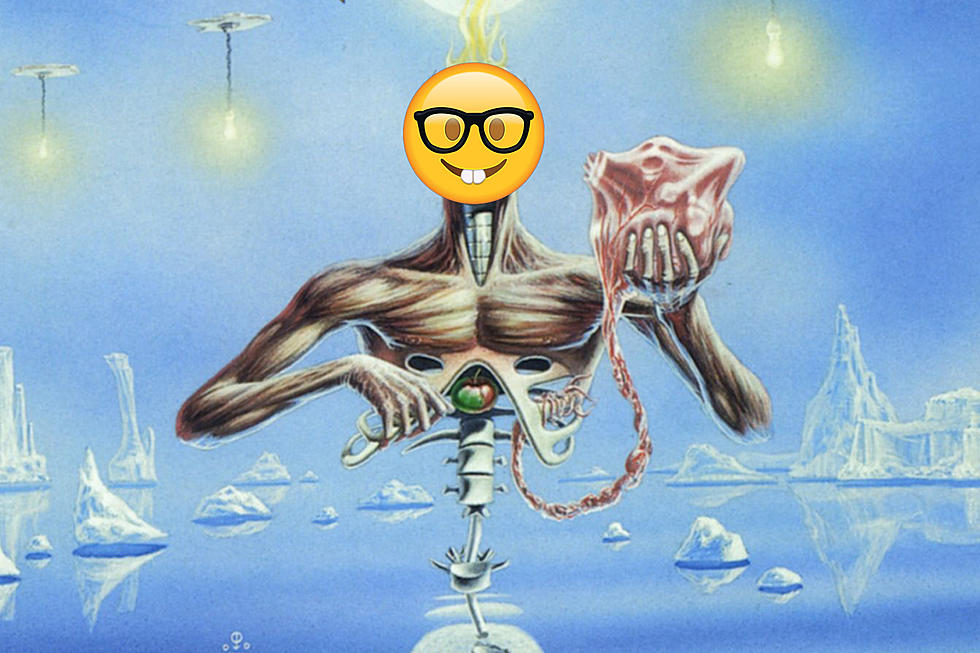 7 Super Nerdy Things We Love About Iron Maiden's 'Seventh Son of a Seventh Son'
EMI / Apple
Iron Maiden's seventh studio album, Seventh Son of a Seventh Son was released in 1988 and closed out their first decade of material on a remarkably strong high. It's this writer's all-time favorite album — of all recorded music in the history of forever, not just Maiden's catalog — so it's time for a proper fanboy analysis of seven oddly specific, quirky and nerdy things we love about Iron Maiden's historic Seventh Son album.
In so many ways, this album is a mile marker for Maiden and metal. It's the last record from the famed five-piece lineup that dated back to the 1983 Piece of Mind release as guitarist Adrian Smith departed in 1990 due to dissatisfaction with the coming change in musical direction. Seventh Son is also Maiden's progressive masterpiece as they struck an ideal between technicality, complex songwriting and (mostly) songs of a more traditional length, the latter trait being something a certain faction of fans sorely miss.
As the last Iron Maiden album of the '80s, Seventh Son is also largely viewed as the end of a hardly rivaled seven-album hot streak, a truly rare accomplishment for any artist.
But enough about some history, let's dive deeper into this record and get nerdy!
7 SUPER NERDY THINGS WE LOVE ABOUT IRON MAIDEN'S SEVENTH SON OF A SEVENTH SON
1. Producer Martin 'The Disappearing Armchair' Birch Received His Most Outrageous Nickname Credit to Date
You didn't even know Martin Birch had studio credited nicknames, did you?
And you don't need us to tell you why "The Disappearing Armchair" was the best of the bunch through this release, just take a look for yourselves.
Pre-Existing Credits
Killers: Martin "Headmaster" Birch
The Number of the Beast: Martin "Farmer" Birch
Piece of Mind: Martin "Marvin" Birch
Powerslave: Martin Birch
Somewhere in Time: Martin "Masa" Birch
Seventh Son of a Seventh Son: Martin "The Disappearing Armchair" Birch
2. They Perfected Their Use of Synths
There is an alarming misconception that guitar synths didn't work for rock and metal bands who got popular before the new technology was popularized. Yeah, things went kind of sideways for the mighty Jethro Tull (not that the Grammys cared — they doled out an award to the crestfallen folk prog instigators anyway), but for Maiden especially, it worked out quite well.
The guitar textures are rich and offer a lot of depth for the band's most progressive songwriting yet and those spidery leads feel otherworldly, helping to connect with the frozen wasteland depicted by famed cover artist Derek Riggs.
What Smith and Dave Murray did differently than a lot of their peers was find a way to work the technology into their sound and style, rather than letting the tech drive the new direction just for the sake of having a new toy to play with, which is also quite a progressive tactic.
And how did they do that, exactly? Well, they kicked the guitar synthesizers utilized on Somewhere in Time to the side!
Instead, Maiden recorded actual keyboard synths. It was pretty simple stuff, but it demonstrated a recognition that the guitars were best left running through amplifiers and pedals and that an entirely new element could be implemented.
3. Bruce's Banshee Cackle at the End of "Moonchild"
The acoustic guitar strums and Bruce Dickinson's hushed rhymes that open "Moonchild" indicate there's some evil afoot. He ramps this up with a biting vocal delivery throughout the song, putting more snarl into his voice than he exhibited over the last couple records.
We're told that seven angels and seven demons are battling for the soul of the child born the seventh son of a seventh son and with the gift of second sight and things already feel quite apocalyptic with racing solos and dark overtones. Once Dickinson discharges that maniacal, soul-stealing banshee cackle at the end, it's evident that those seven angels have a hell of a lot of work ahead of them.
4. The Instrumental Back Half of the Title Track!
Among all of Maiden's epics, this one tends to get a bit lost in the conversation, at least regarding their '80s output. The band was at least well aware of its stature and resurrected the mammoth, mystical centerpiece of its namesake album on their Maiden England tour, which stretched from 2012-2014. By the way, any word on a live album from this run, fellas? Rod? Don't make me beg… because I will and without any hesitation.
Anyway, less talk about maybe one day finally hearing "Seventh Son of a Seventh Son" with three guitars (I'm on my knees, my hands are clasped… please release something…), and back to the main points, which are Davey and Adrian's solos and lead breaks over the colossal back half of this song (which you can watch in the video from 2012 below, played with the modern era guitar trio).
Maiden and melody are inseparable bedfellows, so it's almost moot to even mention these traits as a specific hallmark, but "whale oil beef hooked" if the three minutes that close out "Seventh Son" aren't in the conversation for the group's greatest guitar moment of their entire 40-plus year career.
It's here we get the sense that the aforementioned septets of demons and angels become entangled, each looking to claim their influence over the young prophet's soul and, thus, his unearthly power.
To digress a bit again… one huge takeaway from the enduring Iron Maiden vs. Judas Priest debate is the style of the solos. Priest's are typically piercing and bitingly angular and it's here that Maiden come closest to that particular practice. It's not at all to say one style is better than the other, it's just a plainly interesting comparison. We warned you this was nerdy!
5. There's a Reason "Infinite Dreams" Hasn't Returned to the Setlist
After seeing the Maiden England tour in Raleigh, North Carolina in 2013, someone uploaded a phony set to setlift.fm and one of the track was dubbed "Afraid to Play Infinite Dreams." It was worth the chuckle, but when you really give this song every second of your attention, it's not hard to imagine why it hasn't been played since 1988.
Even for the bull-headed Bruce Dickinson, this is an impossibly demanding song for any singer. It's certainly one of his most brilliant moments in the studio.
6. The Lyric "As soon as you're born you're dying" in "The Clairvoyant"
That just makes life hurt, doesn't it?
Anti-natalist philosophers posit that it is better to have never been born at all than to have been born, but if you have been born, then it is better to be alive than to be dead, despite the unenviable burden that is the human condition.
Couple that with this nihilistic lyric and it's a firm reminder that our existence is, ultimately, one crawling, grinding stretch toward an inevitable end — like that scene in Austin Powers where the beloved protagonist runs over one of Dr. Evil's henchman with a steamroller after demanding he get out of the way for what felt like an eternity.
7. Steve's Ridiculous Bass Part at 1:52 in "Only the Good Die Young"
By 1988, seven albums deep, the world was quite aware of what 'Arry could accomplish with a handful of fingers (how's that for a zinger?) and a Fender Precision bass. But that part after another wind-whipping solo at the 1:52 mark… now he's just struttin', showing his stuff and he isn't afraid who sees it.
When you heard that for the first time, were you even acutely aware you could essentially roll your R's at rapid fire but on a bass? I wasn't.
Maiden have never played the Seventh Son closer live before and we've managed to convince ourselves (and hopefully some of you) that it's because this one 10-second bass part would result in every bassist on earth laying down their instrument for good, forever bending their knee in the direction of Harris, who would then look back at the legions of four-string forsakers with a puzzled grin, wearing his famed 'Whale Oil Beef Hooked' shirt.
Iron Maiden's Eddie - A Look at Over 40 Years of Metal's Best Mascot
Iron Maiden's undead mascot Eddie, as seen on single and album art throughout the band's 40-plus year history.