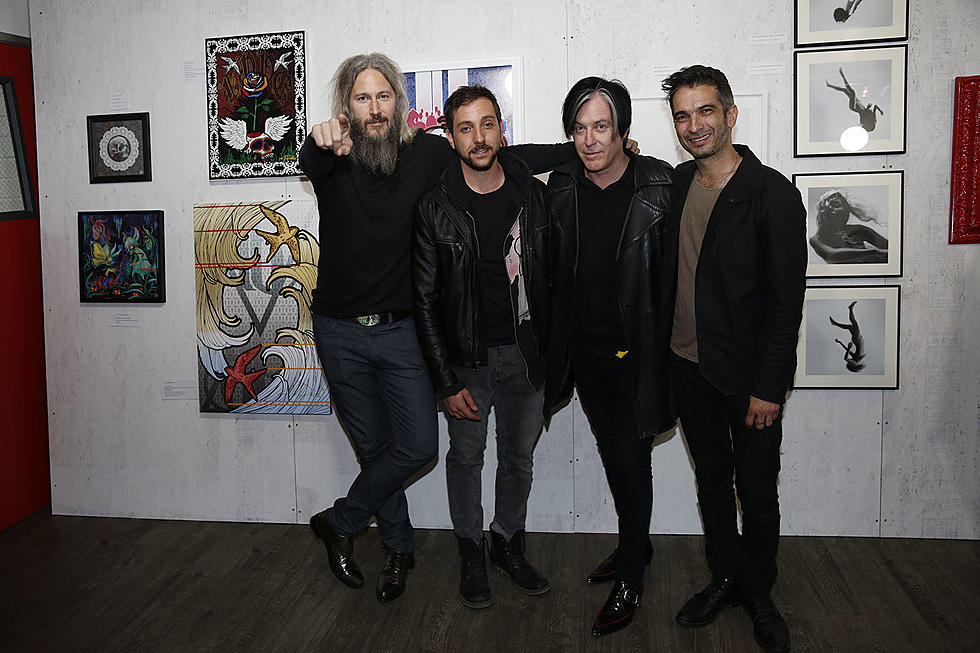 Gone Is Gone Bring 'Smile + Wonder' to School Fundraiser + Art Auction [Photos]
Alex Kluft Photography
"Smile and Wonder" could just as easily be used as descriptors when recounting the joy of the four musicians performing their atmospheric music under the moniker Gone Is Gone, but for Thursday night (Feb. 8) in Los Angeles, it had a dual purpose serving as the title of developmental school for children who were the reason for the rare show from the collective.
The Smile + Wonder art auction and fundraiser brought music fans, art lovers and those interested in the school together Thursday in the heart of Los Angeles for a fun evening capped off by Gone Is Gone's third ever live performance. Held at the Smile + Wonder Learning Center, the halls and rooms were filled with artistic pieces and donated items from members of Mastodon, Queens of the Stone Age, Slipknot, Incubus, At the Drive In, Pearl Jam, Gojira, No Doubt, The Kills and more.
The Smile + Wonder Learning Center in Los Angeles was founded by Gone Is Gone drummer Tony Hajjar and his wife Nicole, a speech therapist, who launched the school back in 2009 and have seen it take great strides in the near decade that it's been in operation. The Smile + Wonder Center uses specialized therapy services in three distinct programs -- pediatric therapy and diagnostics, a pre-school and learning center and a wonder zone for child enrichment -- to engage children with a meaningful and natural learning experience rooted in a parental environment with child-led ideals.
"We know how hard it is to raise a child," stated Tony Hajjar in a statement. "And if there's a child that needs more help than others, we know how difficult that is, too. Smile + Wonder was created to help children reach their full potential." Speaking with the drummer later in the evening, he had praise for his wife and the passion that she has put into the school.
"Every child needs someone to believe in them and deserves the resources to succeed," added Nicole. "Every day we get to work with amazing children and their families, helping them overcome developmental obstacles to find the magic within and for that, we are incredibly grateful."
Slipknot's Jay Weinberg and Shawn Crahan both contributed art pieces to the show, with Weinberg's "Blinded Silence" being a smaller hand-painted piece using watercolor, ink and graphite and Shawn Crahan offering a portrait of an alluring female. Incubus drummer Jose Pasillas delivered a trio of art pieces -- "Bold Love," which featured a rose emerging from a cracked skull; "Love Bird," a winged piece of striking artwork done on a polycotton canvas; and "Head Spin," a glossy poster of four female heads facing north, south, east and west.
Mastodon provided an impressive array of concert posters and picture vinyl, while Troy Sanders had a colorfade hand-painted acoustic guitar on display with the red fading into the black and writing on the piece. Chelsea Wolfe and At the Drive In also contributed guitar pieces. At the Drive In's Cedric Bixler-Zavala showed his artistic flare with a hand-drawn ink piece. Gojira's Mario Duplantier added a striking pair of hand-painted Le Pechent drum heads and Pearl Jam's Jeff Ament offered a more abstract piece titled "Study of a Talking Head."
Some of those contributing art were on hand to lend support: Dreamcar/No Doubt bassist Tony Kanal, Slipknot's Jay Weinberg, Giraffe Tongue Orchestra's Pete Griffin and photographer Steve Erle were among those spotted mingling with the crowd. Each of the items showcased at the art auction and fundraiser are currently on display online and available to bid upon through Feb. 15 at 11:59PM ET. Head here to check out all of the artwork and donated items.
After those attending had a chance to check out the artwork, Nicole Hajjar spoke about the staff at Smile + Wonder and gave the floor to one of the school's success stories, a young girl named Cadence, who beamed with confidence as she shared what she loved about her time at the school. "This school has lots of girl power. I feel like a superhero," she exclaimed, also detailing some of the activities she loves, while her mother spoke of how amazed she was at just how far her daughter had come since attending Smile + Wonder.
The capper to the evening was the Gone Is Gone performance. The band, consisting of Mastodon's Troy Sanders, Queens of the Stone Age's Troy Van Leeuwen, At the Drive In's Tony Hajjar and Sencit Music's Mike Zarin, played only their third show since forming, delivering an atmospheric five-song set featuring some of the better known material from their self-titled EP and Echolocation album.
The special performance took place on the center's playground. Due to space limitations and noise control Hajjar played on electronic drum pads while Zarin stuck solely to keys rather than his usual variety of instruments. It was a more subdued performance, but no less intriguing as the band toyed a bit with the arrangements, continuing to evolve songs that they've lived with over the past few years and show their musicianship in the process. The performance had a mesmerizing effect, enhanced by the projection on the side of the building of kaleidoscopic images of a strong female body falling through the air, which is similar to the artwork of their debut EP.
The Gone Is Gone favorite "Starlight" didn't stray too far from its normal sound, but "Sentient" became one of the more interesting performances of the set, transformed into a chugging, atmospheric slow burn of a song as Troy Sanders' vocals reverberated against a more subdued backdrop.
A more understated version of "Gift" followed before Sanders, who always seems to enjoy the Gone Is Gone shows, offered a content "Alright" to the crowd before starting one of his favorite tracks, "Dublin." Finishing out on a high note, the band pulled back on the usual urgency of "Fast Awakening," but delivered a no less powerful performance with a bluesy flare capping the end of the track as the audience cheered on.
To learn more about the Smile + Wonder Learning Center, check out the school's website, and to get in on the auction, which runs through Feb. 15, be sure to see all the pieces available and bid here. Check out our photo gallery from the event below.
Gone Is Gone 'Smile + Wonder' Set List
1. Starlight
2. Sentient
3. Gift
4. Dublin
5. Fast Awakening
Smile + Wonder Art Auction, Fundraiser + Gone Is Gone Performance Photo Gallery