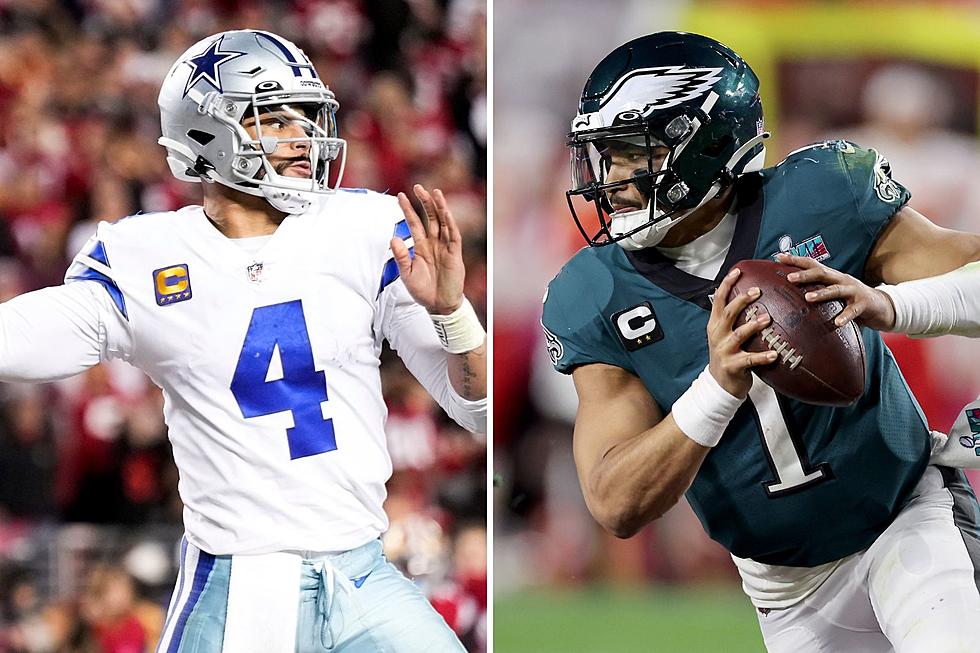 Former Cowboys WR Says Dak Prescott Is Better QB Than Eagles' Jalen Hurts
Photo: Getty Images/Canva
A former Dallas Cowboys wide receiver is raising a few eyebrows by saying that current Cowboys QB Dak Prescott is better than Philadelphia Eagles QB Jalen Hurts.
The NFL is back in full swing in a little over a month. And while fans wait patiently (or impatiently like me) for the season to start, any bit of football that is out there is being absorbed like it's the last season we'll ever see.
But when I saw what former Cowboys WR Terrence Williams had to say about the comparison of Dak versus Hurts, I was like, "Uhhh, what?"
In a recent interview 'T-Will' shared his thoughts on the two quarterbacks from the NFC East: "Jalen is spectacular. But to me, it's not even close. Jalen is more of a runner. He's a 'ground & pound' QB. Dak's the best of both worlds."
I have been super critical of Dak over the years and my stance remains the same. Dak has proven he is a good quarterback, but I am not sure he is the elite leader the Cowboys need to get them to the "big game". I could be wrong, and I hope I'm wrong.
READ MORE: Best Quarterbacks in Dallas Cowboys History
That said, Dak is a great person and you can't dismiss the big heart he has. There is no question about that. And, Dak does have the numbers to support that he is statistically better. But as we all know, stats do not matter if you can't win playoff games.
Until Dak can prove he can win the critical games, I'm afraid most fans will have a hard time getting behind the notion that he is better than Jalen Hurts. That actually hurts me to write that.
What say you? Do you think Dak is a better quarterback than Jalen Hurts?
One thing I do know is that Dak has a super nice house.
LOOK: Dak Prescott's 3 Million Dollar House