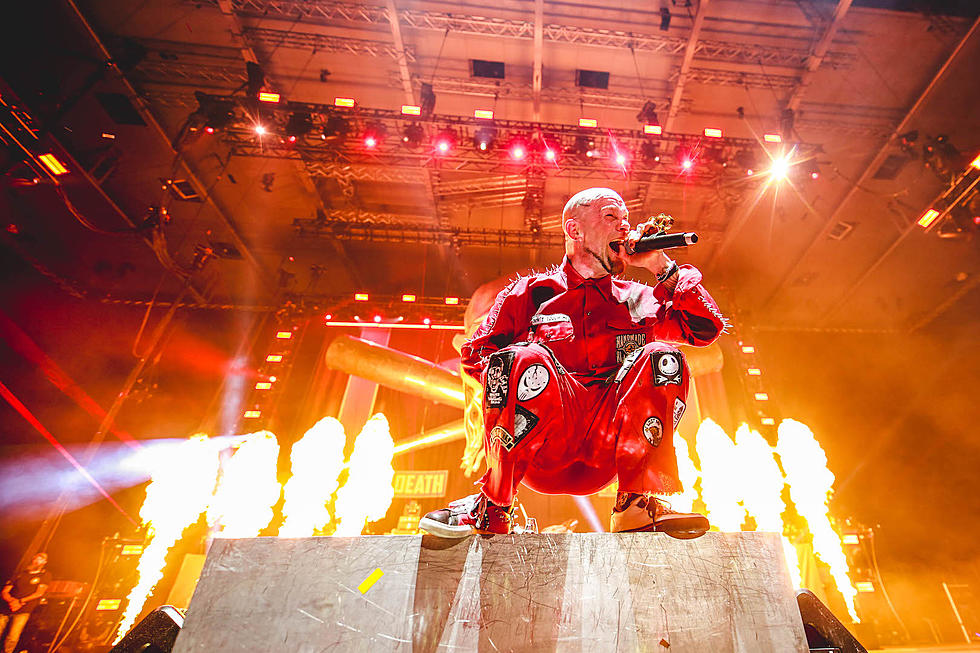 Five Finger Death Punch Issue Statement on Canceled Shows as Advised by Doctor
WombatFire.com
Five Finger Death Punch have issued a statement about their earliest possible return to the stage, as advised by a doctor, with singer Ivan Moody continuing to recover from hernia surgery and resulting complications.
The band has already had to withdraw from three shows opening for Metallica in Europe and they won't take the stage again until at least June 12, possibly even later.
In late April, Moody shared a video on social media detailing the extent of his injury, revealing he sustained three hernias during a music video shoot. He underwent corrective surgery shortly after, but the healing process has been difficult.
As divulged in a new statement from the veteran hard rockers, Moody took a trip to the emergency room "a few days ago" due to "complications" from that hernia surgery. Five Finger Death Punch lament the cancelations, which also includes their Download Festival appearance, and that "the decision to cancel was not made lightly."
Read the statement in full directly below.
Five Finger Death Punch Statement on Ivan Moody's Recovery + Canceled Shows
Ivan went to the emergency room a few days ago with some complications from his recent hernia surgery. While he is in the best possible medical care, his doctors have advised he must not perform any strenuous activity until, at the minimum, June 12, 2023.

As a result, we won't be able to proceed as planned with the European shows prior to that date. He is being followed closely by his medical team who will continue to monitor his progress and will advise as to when he can return to performing.

We were genuinely looking forward to the dates and the decision to cancel was not made lightly, but Ivan's health & well-being are our utmost priority. We apologize for any inconvenience and are grateful for your understanding and support during this time. We are all looking forward
to returning to the stage as soon as Ivan has made a full recovery.
More About Ivan Moody's Injury
In that late April health update, Moody informed fans, "I was in a video shoot. I was jumping around a little bit and I felt something pop. I didn't think much of it. The next day I went to rehearsal, and again, something was a little off, so I took myself to the doctor and he sat me down and he told me that he was surprised I was still walking."
The frontman went on to note that have all three hernias operated on at the same time "was a shock to my system" that left him in a state where it is difficult to sing and sitting upright resulted in "excruciating" pain.
Still, he expressed confidence that he'll get through this and added, "Don't count me out. You know better. I've been an underdog my whole life.
Loudwire wishes Moody well and hopes he can return to the stage in full health soon.
See all of Five Finger Death Punch's upcoming tour dates at their website and get tickets here.
Your Guide to Rock + Metal Bands Touring in 2023
Check out over 200 rock and metal bands' touring schedules for 2023.