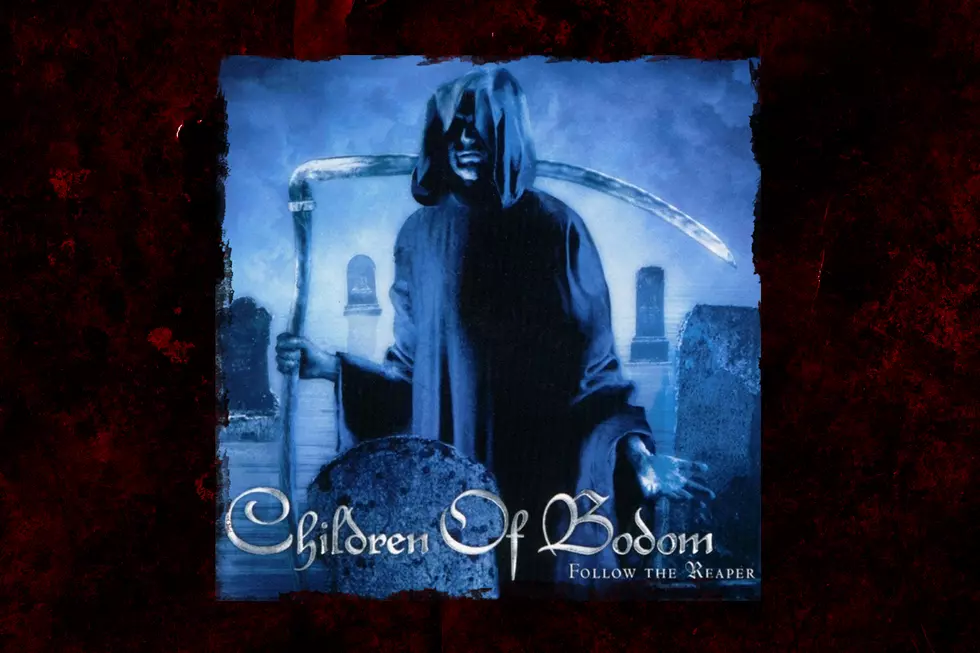 20 Years Ago: Children of Bodom Release 'Follow the Reaper'
Spinefarm
Children of Bodom entered the new millennium with their third effort, Follow The Reaper, which saw the band expand on what was already a hyper-melodic attack with freakish abilities of a band experienced well beyond their years; Alexi Laiho and Janne "Warman" Wirman were just 21 at the time.
The disc, which arrived on Oct. 30, 2000, is what many fans consider to be the band's best album. A perfect fusion of melody, riffs, and unforgettable hook after hook, Bodom brought something new to the table taking the best elements of traditional heavy metal and extreme metal to concoct a sonic brew that still unhinges jaws to this day.
Today, we know them as one of extreme metal's most revered acts, headlining tours around the globe, but this wasn't the case a decade and a half ago. Though steadily gaining popularity, Children of Bodom were still a relatively unknown group, though with a cult following, trying to break through and find their niche.
Follow the Reaper was by far their most melodic yet, seeing a ceaseless flurry of notes emanating from band leader Laiho's lightning-fast fingers with surgical precision. Matching him on the keyboard was Warman, who's right hand takes over nearly all of the work in the neo-classical shredfest. Delving a bit more into their collective affinity for '80s metal, Children of Bodom recorded what would become one of the most legendary albums in extreme metal.
Children of Bodom, "Kissing the Shadows"
Once again, Laiho shouldered the writing, displaying his dazzling prowess. Speaking with Voices From the Darkside, the mainman discussed the development of the band's style, saying, "It's something I can't really say when I developed the whole thing, or when we did, but you know, it's more like that it has been really developing in this direction for a period of many years, and just because of the way I... or the stuff I'm really into, because I'm really into '80s heavy metal bands and then I'm also into these extreme bands, you know. So I guess it's just natural the way I come up with riffs and which are combined '80s heavy metal and extreme stuff, but it was never really planned but that's just how it turned out."
Bodom entered Peter Tagtgren's Abyss Studio in Sweden to record their follow-up to Hatebreeder, marking the first time the group would not work with producer Anssi Kippo, who they had teamed up with going all the way back to 1995 when they were known as Inearthed. In an interview with Rockezine, bassist Henkka T. Blacksmith commented on their decision to work with a different producer, stating, "We were afraid that if we recorded the album in the same studio it would sound like our previous albums and that wasn't what we wanted this time, but besides that we wanted this release to sound heavier than our previous ones, and Peter seemed the best man for the job and Peter did a great job.
Children of Bodom, "Bodom After Midnight"
Detailing the recording process a bit, he continued, "Although for the first three weeks he wasn't even around and we recorded all of the music on our own. But then when we started with the vocals Peter jumped in and gave us lots of advice on how the vocals should be sounding. Cause, as you know, Peter himself also has lots of singing and producing experience, but he also helped us with the keyboards parts. At one time he just wanted to have the right sound for the keyboard piece and he had the choice out of 500 different keyboard sounds, but he kept on trying 'til the best sound came out."
The band walked away with another reaper-adorned album under their belt, proudly boasting hit after hit with most of the cuts from the record still dominating sets today. The title track, "Bodom After Midnight," "Children of Decadence," "Everytime I Die," "Mask of Sanity," "Hate Me" and "Kissing the Shadows" are all Bodom classics, comprising nearly the entire album. Diehards may have recognized parts of "Mask of Sanity" seeing as the band recycled bits from "Talking of the Trees," a song from the Shining demo from their days as Inearthed when Laiho was just 16 years old.
Children of Bodom, First U.S. Show in 2000
Children of Bodom fans should count themselves as lucky, considering the groundbreaking album was only expected to see one follow-up before the band called it a day. Laiho told Voices From the Darkside, "Right now, the third album Follow The Reaper [is selling] better than ever so now we ain't got any reason to stop but I think that if we're gonna do a fourth album I think that's probably gonna be the last album we're gonna do."
Even though the band was getting more successful, and Laiho was aware of it, he still expressed plans for after Bodom, stating, "And after that there is one thing in which... I like these guys, I mean they're the best friends, probably the only friends I ever got and it's like really good chemistry going on and it's better that when we're still something and when we sense it's going down: just stop so we're gonna have good memories of the whole thing, you know. And then just going on and put another band together, you know, probably I'm not gonna sing anymore, you know, I'll start the whole thing all over again."
Clearly, that plan was abandoned as Bodom have recorded six more albums since the legendary Follow the Reaper and have endured a couple lineup changes. Even if the band did pack it in after four albums, it wouldn't change the fact that Follow the Reaper is one of metal's most treasured albums and its praises will surely still be sung another 15 years from now.
Children of Bodom's Alexi and Janne Reflect on 'Follow the Reaper' [Exclusive]
Where Does Alexi Laiho Rank Among the Top 66 Hard Rock + Metal Guitarists of All Time?