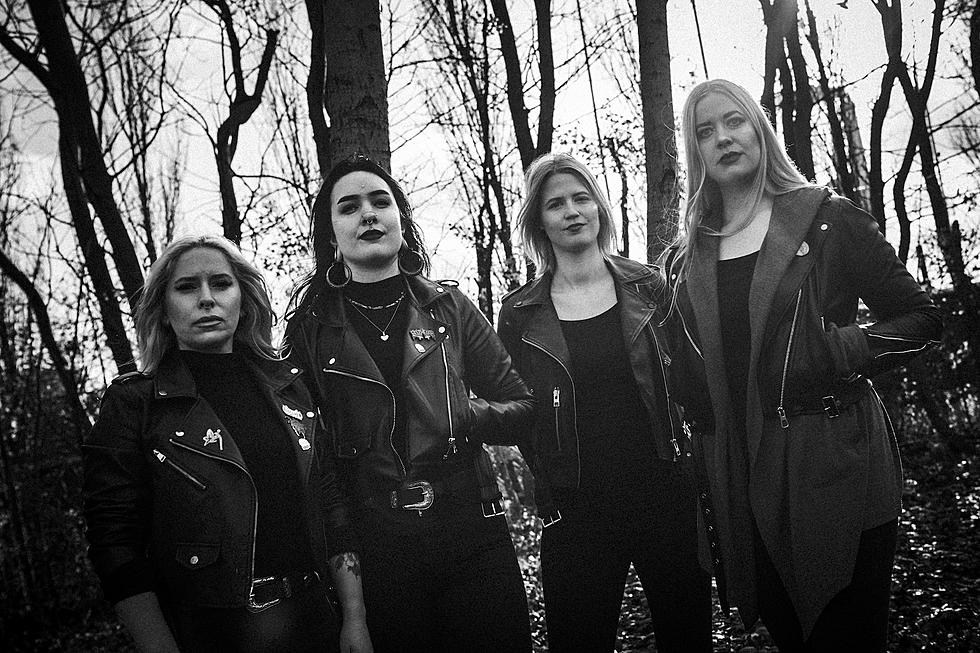 10 Best New Age Doom Metal Bands, Chosen by Konvent
Sebastian Apel
Konvent are a four-piece death/doom metal band from Copenhagen, Denmark. With just two albums — 2020's 'Puritan Masochism' and their newest effort, 'Call Down the Sun,' they've managed to carve out a niche for themselves amongst today's populous doom scene with  aching, mournful melodies pouring over a bedrock of crawling, crushing riffs to create a post-metal atmosphere of agony. 
The well of doom metal is constantly being topped off with new artists putting their own touches on the genre's wide range of sonic possibilities, so we hand it off to Konvent, who are here to shout out who they believe are the 10 Best New Age Doom Metal Bands.
When we first got together in 2015, none of us were very big doom fans, so it's a bit of a coincidence that we ended up making doom metal, since we just wanted to sound heavy and evil. But I think one of the only doom bands that we all liked from the beginning was Candlemass, because of their epic and menacing riffs.
Since then, our love for doom metal has grown bigger, although we often end up liking genre-bending bands that mix doom with black, death or punk for example. I think that's what keeps the genre alive as well, that we keep seeking out new ways, while still keeping in touch with the old influences.
Follow Konvent on Instagram, Twitter, Facebook and Spotify. Pre-order your copy of 'Call Down the Sun,' out on Napalm Records, here.
Konvent, "Grains"
10 Best New Age Doom Metal Bands
Mantar is a band that most of us have in common. We all love their music and sound and they have definitely been a big inspiration to us throughout.

Their mixture of punk, doom and black metal is so addictive! They are just impressive, both on albums and live!

Some years ago, we did an interview where we had to share our most beloved band T-shirts and Sara was wearing a Mantar shirt. After that they reached out to us and sent us all a T-shirt and they were just so nice! We would still really love to tour with those guys. That would be killer!

—Heidi Withington Brink

This is a band I found several years ago, when they were playing a venue here in Copenhagen. I didn't really know much about them, before the show, but I was really transfixed during their whole set and immediately went to buy their album "Foundations of Burden" afterwards, which I still have and listen to this day.

It's a band I would really love to tour with as well, because I would enjoy listening to them every night.

—Heidi Withington Brink

Hypnotic and instrumental post-metal/doom/sludge from Copenhagen, Denmark. Their style of doom is very heavy and yet they manage to incorporate really melancholic riffs and melodies, which makes perfect sense when looking at the song titles. They have only released one LP and I can't wait to hear more from them!

—Rikke Emilie

Unpolished death sludge doom from Denver, Colorado. Their type of doom is definitely the more gritty kind in the best possible way. Ethan Lee McCarthy's vocals are absolutely amazing. I still haven't seen them live yet but they are on the top of my to-see list.

—Rikke Emilie

Catchy stoner doom from Lublin, Poland. When we were writing our first album Puritan Masochism, Dopelord was one of the bands I was constantly listening to. The intro to their song "Preacher Electrick" has become pretty iconic.

—Rikke Emilie

Psychedelic stoner doom from Wroclaw, Poland. Their music is great for those days where you just need to de-stress and have a break. Also, Spaceslug is the perfect name for this band as it will take you on a slow trip around the cosmos.

—Rikke Emilie

Great stoner doom from Gothenburg, Sweden. We were lucky to tour with Monolord in 2019 and see them play live every night. I can always listen to Monolord whether I've had a good or a bad day. Highly recommend their album Rust from 2017.

—Rikke Emilie

Sara and I have been very inspired by Amenra when writing the new album. Very melodic and big sounding, yet their music is still very minimalistic. Amazing band. Another great example of making a sound universe without it being so complex. Something that we strive to achieve is creating a sound universe of our own. That's very inspiring to us. We hope to someday share the stage with them!

—Julie Simonsen

One of my very big inspirations when it comes to music writing. They are insanely good musicians and I really admire their talent. I listened a lot to Dvne while writing Call Down the Sun for Konvent and it has definitely been a very big inspiration for me.

I feel that one can always listen to Dvne and I often listen to them in my car on my way to work. I really feel they deserve more attention and I would love to see them live some day. Their newest album is just… impressive! Their compositions are utterly insane and I have not heard anything like it before.

—Sara Helena Nørregaard

Very heavy, catchy and groovy doom riffs. I feel like this is a very "no-bullshit" band. Their music is very monotonous, but it never gets boring. The vocals are very empowering, and I always feel like headbanging when I hear this band. I saw them live in Copenhagen some years ago and it was really great. Would love to see more concerts with this band.

—Sara Helena Nørregaard