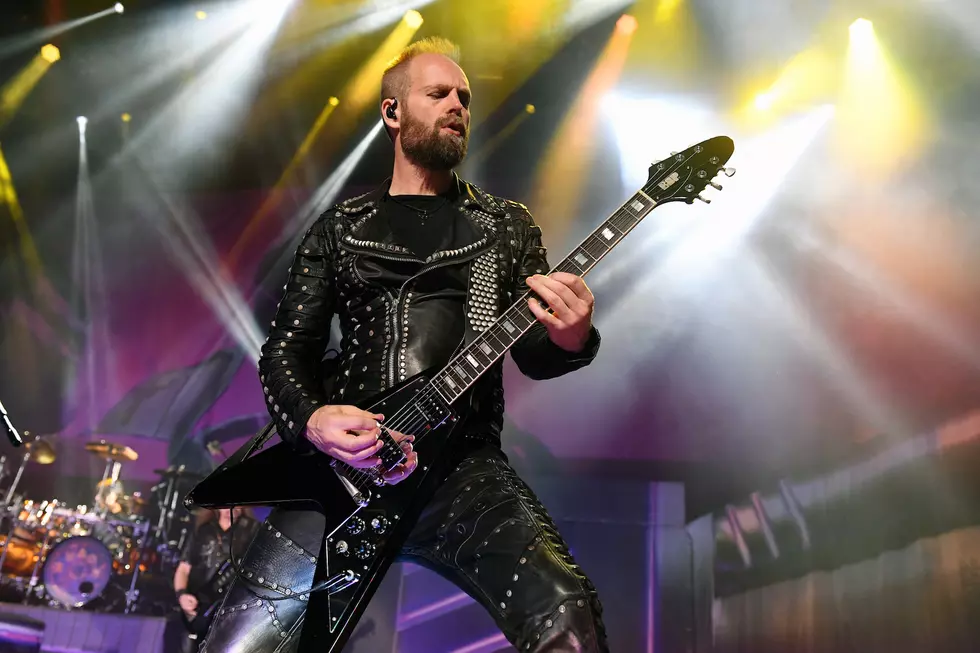 Andy Sneap Will 'Help Out' With Judas Priest for as Long as They Need
Ethan Miller, Getty Images
Next year, Judas Priest will be celebrating their 50th anniversary and guitarist Andy Sneap, who was tapped as Glenn Tipton's live fill-in, will remain onboard for the foreseen future, willing to keep going as long as the band needs him to.
"It'd be great if Glenn was up there doing it," Sneap confessed during an interview on the "Talking Bollocks" podcast. "That's the thing that really… it's always in the back of my mind; it really is," he went on, adding, "But it's just nice that he asked me to do it."
Since early 2018, Tipton has not been able to partake in performance as a result of a 10-plus year battle with Parkinson's Disease, but still makes select onstage appearances for encores when he's able. Sneap, who co-produced Priest's Firepower album, has been playing with the group since, but both sides have held no certainty regarding his future status within the group.
"As long as they want me to help out, I'll help 'em out," Sneap said, addressing his role. "That's kind of the way I'm looking at it, really."
In April, bassist Ian Hill applauded the producer / guitarist, commenting on his ability to quickly learn Judas Priest's entire set on short notice and the growth of his stage presence. He also stated that Sneap will be "more than welcome to stay."
Looking forward into 2020, Sneap reaffirmed he will be playing with Priest on the rescheduled tour supporting Ozzy Osbourne in Europe. He's still finding time to work his "day job," having just mixed Killswitch Engage's new record, Atonement, and is delayed by a "couple weeks" in mixing the forthcoming album from Testament.
Andy Sneap on "Talking Bollocks"
Judas Priest Albums Ranked