Sports Terms or Phrases That Sound Dirty But Are Not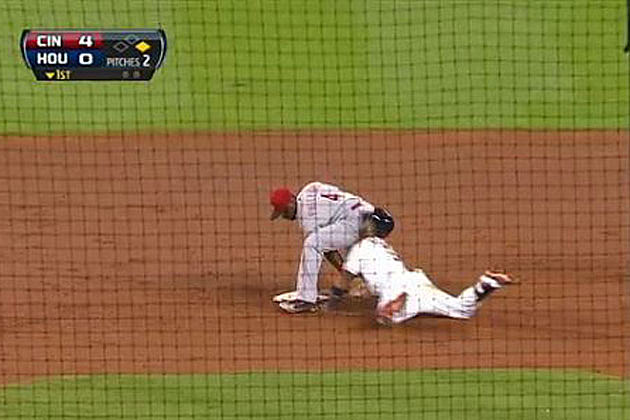 While watching a sporting event, some people may not even realize what the announcer just said, but, if you have a dirty mind like myself, you catch it pretty quick. I'm talking about those sports terms and phrases that sound dirty but are not. Let's take a look at some from different sports.
Al Bello, Getty Images
• Looks like the hole closed on him before he was able to penetrate
• They continue to pound the ball
• That hole was so big you could drive a truck through it.
• He could go all the way
• The runner had to stretch it out to get it in
• He goes deep
• Look at that penetration in the backfield
• He found his tight end
• The defensive lineman straddles the quarterback but he's still able to get the ball off
• He was wide open, but he let the ball fall right through his hands
Jason Szenes, Getty Images
• That guy is swinging a big bat.
• He throws a backdoor slider
• Pitcher's mound
• Batter's box
• He hits it hard up the middle
• Wow! That was a high hard one
• He's got two balls on him
• He popped a big one up
• The squeeze play is on
• He smacks it hard and it goes long and deep
David Cannon, Getty Images
• Look at the size of his putter
• He missed the hole again
• Looks like he bent his shaft
• He really has a nice stroke
• He's using a new ribbed grip on his shaft
• He really whacked the heck out of that ball
• He taps it in
• He can't seem to get the ball in the hole today
• After 18 holes, it's hard to even walk
• He locates the hole really well
Christian Petersen, Getty Images
MMA: He's going for a rear naked choke.
---
Hockey: He gets two minutes for butt ending and will have to go to the box.
---
Basketball: He's being double teamed now so he might not get as much penetration