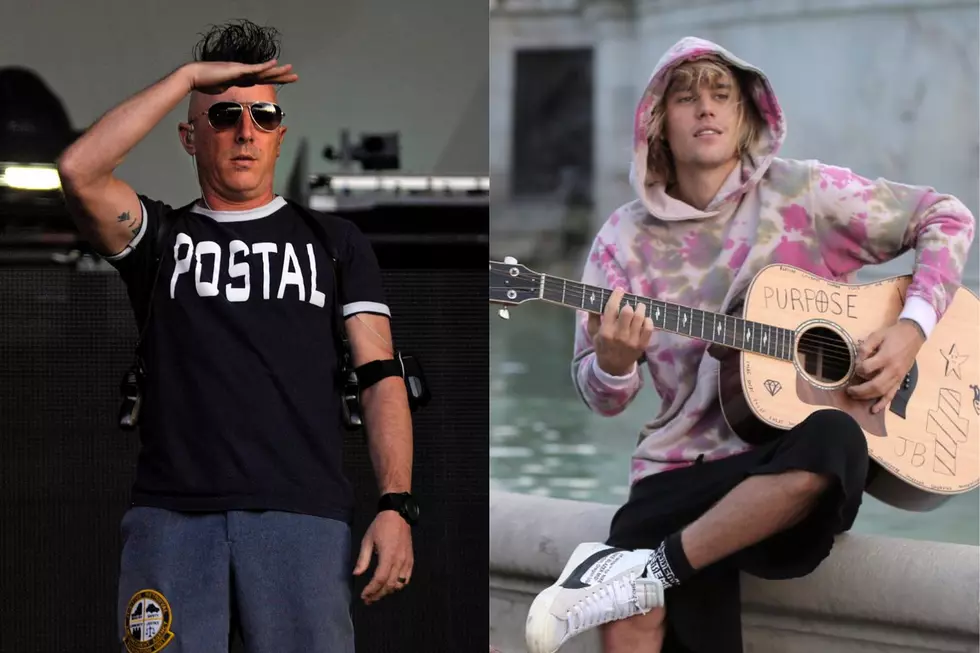 Tool + Justin Bieber: Someone Actually Made the Mashup We All Feared
Martin Philbey / Redferns, Ricky Vigil / GC Images (Getty Images)
If you're reading this, it's too late. Prepare yourself for the inevitable conclusion of the Tool and Justin Bieber feud, which wasn't so much a feud as it was the Biebs seemingly admitting he jams out to Tool, his wife Hailey Bieber defending him and Tool singer Maynard James Keenan reacting in the way you'd expect.
But Keenan and Mr. Bieber won't be stepping into the ring to settle the score. No, the plague wrought of this surprising union comes in a more sinister form. Behold, the fan-created mashup of Tool's "Parabola" and Bieber's "Love Yourself" deigned "Love Your Parabola" in the twisted vision of one DJ Cummerbund. Listen to the song down toward the bottom of this post, if you dare.
"Parabola" comes from Tool's Lateralus, the 2001 third studio album from the band. (Their long-awaited new one comes out next month, and the Tool catalog is finally streaming.) "Love Yourself" is Bieber's Ed Sheeran-assisted earworm that landed at No. 1 on the Hot 100 and became one of the best-performing singles of 2016.
Here's the mashup's description: "It's about time Justin Bieber and Tool squashed their beef and collaborated on a song. Thankfully Ludacris was there to mediate."
It says that because the unofficial fan remix also involves the music of rapper Ludacris, as MetalSucks noted.
This is hard to listen to.
DJ Cummerbund, "Love Your Parabola"
All Tool Songs Ranked